Expressions Orthodontics
LightForce Brackets
LightForce Brackets in Edmonton
LightForce 3D printing is one of those innovative advancements that has modernized the way we do braces at Expressions Orthodontics. We proudly offer LightForce 3D-printed ceramic polycrystalline alumina brackets at our Edmonton orthodontic clinic as an aesthetic alternative to metal brackets for traditional braces. LightForce brackets are translucent, which provides a clean, aesthetic solution for patients in search of a discreet way to wear traditional metal braces.
How LightForce Brackets Work
LightForce uses innovative, web-based software to help our orthodontists customize each patient's brackets to fit their unique tooth anatomy and bite. These ceramic polycrystalline alumina brackets are 3D printed and available in 0.018″, 0.020″, and 0.022″ slot sizes to suit different tooth shapes and sizes. They can also be fitted with comfortable distal hooks to accommodate elastics on upper lateral incisors, lower cuspids, and lower bicuspids.
Benefits of 3D Printed Brackets for Braces
At Expressions Orthodontics, we are excited to offer LightForce clear brackets at our Edmonton orthodontic clinic as a way to offer more precise wire slots, consistent product quality, and aesthetic brackets that are less visible when used for traditional braces. Our experienced orthodontists appreciate the translucent LightForce Light Bracket style because it is sleek and effective for patients who need traditional braces but want to make them more discreet.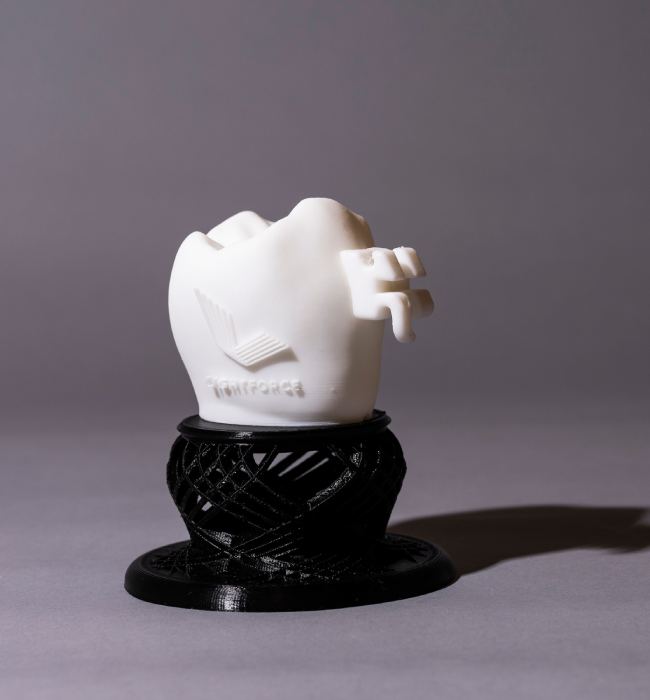 Expressions Orthodontics
Accepting New Patients